The u-Care team head north to Kirkwall for Orkney International Science Festival in September and had a brilliant time talking all things deep UV.
First, we set up our stall at the Family Day at Kirkwall Grammar School. Project manager Natalie, postdoctoral researchers Asta and Calum, and PhD students Al, Caitlin, and Tatiana were kept busy all day with a constant flow of people learning about our work on deep ultraviolet light. Visitors were able to perform bronchoscopy and find the target areas in the lung, play laser golf and guide the laser light to the 'hole', make colour changing keyrings, look at human lung tissue under the microscope, and colour in the different parts of an animal cell. We were so pleased to be able to engage with so many members of the Orkney public during our time at the family day and will hopefully be back next year with new project findings.
We had great positive feedback from the families that engaged with our stand. In particular, children loved making the UV colour changing keyrings and being able to take those home with them, as well as practicing being respiratory doctors with our bronchoscope game! Parents and adults too were very interested in the u-Care project, and we were able to hand out plenty of information booklets. Some feedback from children we received on the day included:
Things I learnt:
'The different parts of the cell'
'How to control lasers with mirrors and that ink absorbs the light'
'Light can change cells'
Things I liked:
'The colour changing beads'
'Performing lung surgery'
'Looking at the lung tissue under the microscope'
'Making my keyring'
Things I will never forget:
'My special keyring'
'The magic beads!'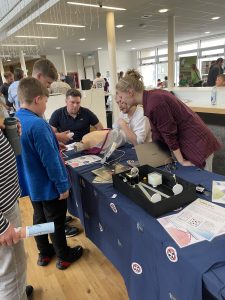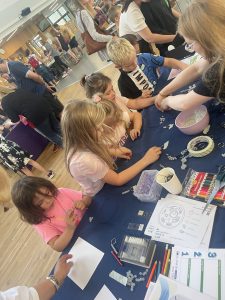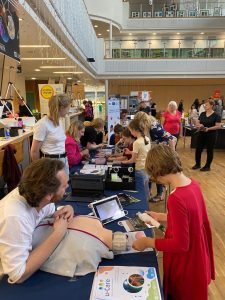 Prof Robert Thomson then gave a public talk in the Pheonix Cinema titled 'Fantastic Light – Incredible Industries'. This talk took us through the past, present, and future of photonic research and the potential uses we can harness in the future. There was a great turn with so many questions for Rob at the end that we had to take the discussion into the foyer!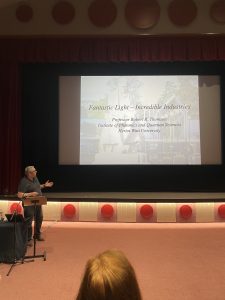 Thanks to Orkney International Science Festival for having the u-Care team, everyone who engaged with us during our time in Orkney, and to the team for an extremely successful trip!